Phase 5. Achieving Transformation
Welcome to Achieving Transformation! This phase of the Collaborative Change Cycle is all about embedding new ways of working for long-term change to shift the underlying design of the system that held the problem in place.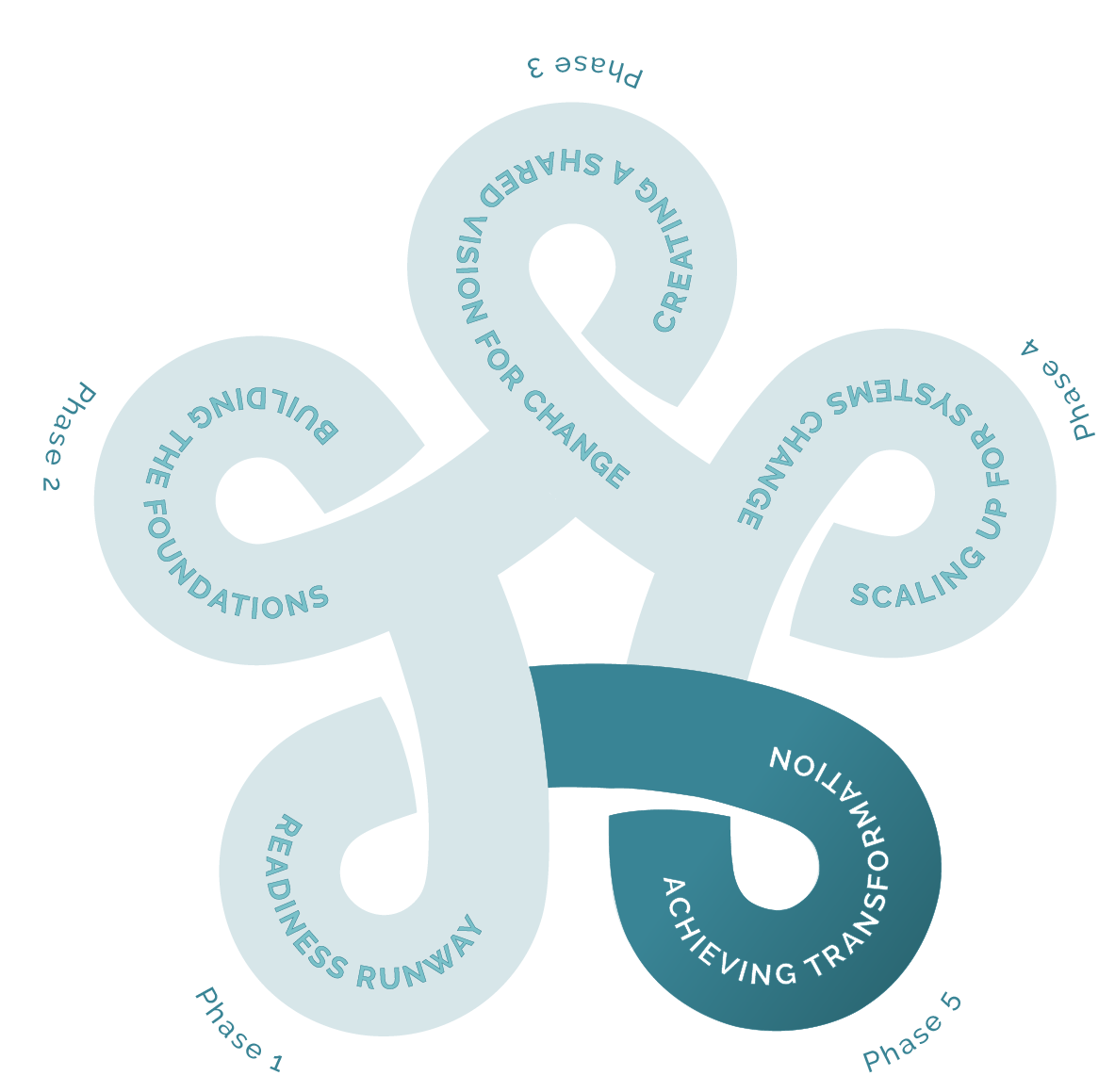 At the 'Achieving Transformation' phase
Achieving systems transformation requires intentionally influencing the deeper interactions and underlying structures of the system such as mindsets, institutions and even patterns of behaviour.  Systems change is not a destination. It is a journey that can be messy, challenging and time consuming. It requires transformation across individual, organisational and system-wide scales. No single person can know the whole system or has the whole answer. 
The work you will have done to get to this phase will prove crucial – in particular, exploring how factors such as social processes, paradigms, power and norms are all shaping interactions. Likewise, the forging of strong collaborations, and pursuing a portfolio of interventions that allow for ongoing testing and learning will have proven key ways to handle complexity and provide strategic direction in the face of uncertainty. 
It is important to emphasise that it is impossible to predict with certainty the impact of an intervention on a system as dynamic and self-organising as our social systems. So one of the most important things you can do to ensure you are working in a way that is conducive to systems change is to embed the capacity for collective learning, based on real time feedback, continuously. 
How do you know you are at the 'Achieving Transformation' phase?
Some of the things you may see happening in your community include... 
The community has a shared vision which is gaining increasing levels of traction and authority. 
More people and organisations are aligning to the vision as evidence of its impact grows. 
A new way of working has been established and is being embedded across the system.
The community is deeply involved in leading and co-producing change.
The new narrative becomes the dominant narrative, one of hope, vision, and commitment to collaborative processes and long-term change.
The shared purpose serves as an anchor to keep the collaboration on track, with population level change emerging and strengthening.
The collaborative leadership competence across the group builds into a powerful coalition that intentionally and strategically exerts influence up, down and across the system. 
The 'backbone' entity is negotiating across different agendas to facilitate alignment to the shared agenda. 
New learning, adaptations and a culture of celebration are brought in to maintain the initiative's vitality
There is evidence of wider influence of the initiative on system design, such as changes in policies, regulations, laws, working relationships, resource flows and practices in ways that further reinforce change.
Achieving Transformation Case studies
Leadership
Collaboration
Community
Measurement
Innovation

5. Achieving Transformation | Government
Role of Government
The phase of 'Achieving Transformation' is about embedding what is working into business as usual. There is generally a strong local evidence base of the impact achieved or the benefits of change. Now it is about leveraging that knowledge for broader impact, embedding these practices or new ways of working into business as usual at the local level and/or across the system to achieve transformational systems change.

5. Achieving Transformation | Philantropy
Role of Philantropy
The phase of Achieving Transformation is about embedding what is working into business as usual. While some parts of the broader systems will embrace innovation, the inherent status quo within the system will resist the change. Transforming systems is only possible through significant evidence, advocacy and disruption. Philanthropy has a distinctive role that can be played during this phase.
close
Change Cycle Locator Tool
Take the quick survey to work out where you are on your change journey and access information specific to your needs