About the Collaborative Change Cycle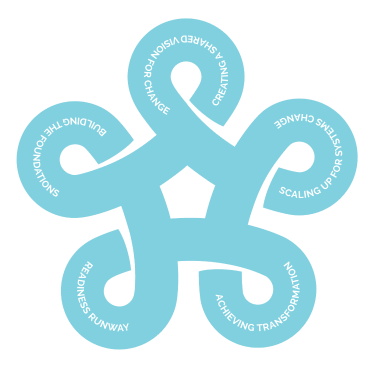 Collaboration for Impact has developed the Collaborative Change Cycle to help change makers collaborate to address complex social issues. It is based on five interlinked phases of work:
the readiness runway;
building the foundations for change;
creating a shared vision for change;
scaling up for systems change; and
achieving transformation.
Each phase includes guidance to help you understand where you are up to, suggestions for how you might make further progress, and resources to support your journey. We know it's not the only way to conceptualise change, but we hope it is a user-friendly way for you and your community to achieve your goals.
If you're familiar with collaborative change and you want to start working with some tools and resources, explore our Change Cycle Foundational Resources.
Collaborative Change Cycle Layers
The Collaborative Change Cycle incorporates five layers, each of which is plays an important part in achieving and sustaining real progress. These are leadership, collaboration, community, measurement, and innovation, each of which is described below. We have divided them up to make it easier to navigate but we acknowledge that there are many areas of overlap and complementarity. Each layer provides guidance on important practices as well as mindsets.
Mindset can be as important as processes. This is because your values and assumptions, as well as the ways you think, talk, relate and work all have an impact on the change you are trying to achieve. Do you really believe that change is possible, and that power should be shared? Are you prepared to try, fail, learn, and try again? Will you take the time to reflect on your own practice, listen to feedback from others, and engage in personal development? Taking the time to work on ways of thinking, not just ways of doing, can make a big difference in how you navigate and enable change.
Leadership
Leaders motivate, organise and support others to achieve collective goals. Leaders come from all walks of life and all sectors. You do not need to be in a position of authority to be a leader. We have drawn on the framework of Adaptive Leadership throughout the Change Cycle, emphasising the need for leaders to adapt their perspective, style and actions based on the immediate and emerging needs of the initiative.
Innovation
Innovation can also be thought of as a mindset, a determination to find the best ways of delivering outcomes for your community. Innovation is not simply about new ideas or doing things differently. It is concerned with framing (and sometime reframing) challenges or opportunities, generating new ideas, selecting, testing and improving the most promising ideas, and translating ideas into effective processes, products and services that meet the needs of the community.
Collaboration
Collaboration is not just about coordinating what we do or entering into a formal partnership. It refers to specific ways of relating to each other and working together. Working collaboratively involves deeply understanding the perspectives of others, the use of group processes to set direction and make decisions, shared ownership of vision, mission, strategy and actions, and joint responsibility, accountability and credit for outcomes.
Community
Communities are groups of people with something in common. This may be where they live (place- based communities), their interests and concerns (communities of interest), or some other characteristic. In collaborative initiatives 'the community' usually refers to the people the initiative is for, as distinct from other stakeholders such as service providers, funding bodies, and government agencies. We consider community involvement and community leadership to be essential meaningful and lasting social change.
Measurement
Measurement refers to the use of quantitative and qualitative data to understand the challenges and opportunities you face, tell your story, track your progress, and continuously improve your practice and outcomes. It also incorporates the learning processes that may be required at each phase of your journey.
The Collaborative Change Cycle is not a blueprint
The Collaborative Change Cycle is not a recipe or a blueprint. Rather, it is a framework for anticipating, recognising and responding to issues that may arise at different points in the social change process. It is a means of navigating the wide collection of tools that can be used to design, deliver, monitor, review, and improve collective efforts.
Change happens at its own pace
If you are at a different phase to another initiative, don't worry. No phase is better or worse than another. They are simply reflections of the change journey you are undertaking. And more often than not initiatives move back and forth between the different phases. It is why we've chosen an infinity loop as the image.
Every initiative will proceed at a different pace across all Change Cycle. For example, many place- based initiatives may start with a community development focus, and then add other elements at a time that 'feels right' locally. Alternatively, other projects may start as formal partnership with formal structures and processes in place, and only later to realise they need to develop a shared agenda and bring in other voices or partners. The change cycle is intended to prompt you to think about the different streams of work, and how they might align, not to dictate what happens when.
Why do you refer to communities?
To make things simple, we use the term community as a general collective term. Platform C is a resource for communities of interest and practice, not just place. It is relevant for community members, backbone leaders, service providers, governments at all levels, and philanthropists. Much of the content we have provided is aimed at change makers. However, there are enablers of change who may not be intimately involved in the process. This can often include government and philanthropy. It is for this reason that we have included information on the roles of Government or Philanthropy at each phase as important supporters and enablers of change.
Communities are complex systems
While 'community' often sounds quaint or utopian, real community change is messy, and its hard work. Communities are best thought of as complex systems in which members have different circumstances, agendas and interests. Many are driven by funding requirements, policies and politics. It is important to have robust technical approaches and plans, but these alone are unlikely to be effective. It is necessary to understand the dynamics at play and to work adaptively to do more of what works and less of what doesn't.
Explore the 5 Phases of the Collaborative Change Cycle