Welcome to Platform C! 
Platform C is a brand new knowledge and learning platform especially created to offer support, learning and connections for people tackling big, tough problems and creating large-scale impact through collaboration. This virtual hub, where paradigms and practice meet, is designed be open and accessible, making collaboration and systems change knowledge, tools and resources available to communities (of interest, practice and place) across Australia regardless of budget or geography.
Based on the Collaborative Change Cycle, Platform C is fuelled by continuous learning and will grow over time to accelerate the emerging practice in Australia of collaboration on complex social change. 
We are currently in beta mode. Your feedback can help us make it even better! 
 
Platform C provides a curated learning space for people tackling big, tough problems and creating large-scale impact through collaboration. Paradigms and practice are made easy to navigate through the collaborative change cycle.
About the Collaborative Change Cycle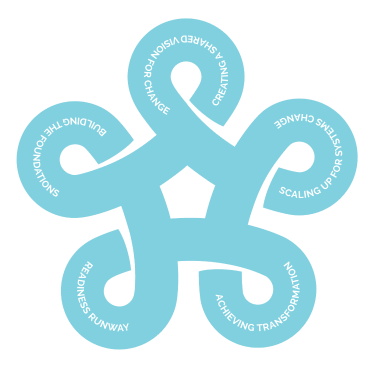 The Collaborative Change Cycle was developed by Collaboration for Impact to provide a means to navigate thinking and practice for tackling complex social change.  The Change Cycle emerges over five interlinked phases each featuring critical enabling conditions, expertise and skills. We know it's not the only way to conceptualise change, but we hope it is a user-friendly way for you to make progress.  
About Platform C
What's in Platform C
Platform C provides change-makers with:
Case studies about collaborative ways of working in Australia
Access to tools and resources tools to support the change journey
Hot spots map of initiatives across Australia to find others doing this work
Access to specialist support and learning opportunities
A place where users can store tools and track progress
Who Platform C is for
PlatformC is designed for all change leaders wanting to collaborate to address complex challenges including: backbone leaders, community members, services, governments at all levels, and philanthropists. When we use the word 'community' we mean communities of interest and practice, not just place. If you are from Government or Philanthropy – there is something to learn about the role you can play in every Phase.
How to navigate Platform C
There are many ways you can navigate Platform C.  You can…
close
Self Assessment
Take the quick survey to work out where you are on your change journey and access information specific to your needs