Contributed by CFI Network member, Fiona McKenzie, April 2020
Finding ways to reflect deep conversations and connections is always challenging. Along with the opportunity I had to listen, learn and document the Mark Cabaj workshop on changing systems, power and potential organised by Collaboration for Impact (CFI) in Canberra on the 2nd and 3rd March 2020, I had the responsibility of capturing the insights and learnings to share with others. 
Earlier in the year, CFI sent out invitations to people who are striving to change systems' for the 2-day, invitation-only learning event. After wondering whether anyone would respond, we soon saw the event had struck a chord and we had a booked-out workshop of people hungry to learn more about frameworks for navigating, creating and evaluating systems change. 

Gathering that first morning on 2nd March, with the hills of Canberra all around us and the hint of early autumn in the air, there was an unsettling incongruence between the energy in the room versus the emptying local streets around us. Rumours of a pandemic had begun to stir and the world was holding its breath. We could only wonder what these forces far outside our imagining might do to the systems we had worked decades to change. It was perhaps this sense of calm before the storm that created the atmosphere in the conference room and corridors of the Department of Social Services. Or perhaps it was the comfort of finding fellow travellers on a similar journey with shared concerns. Whatever it was, participants were distinctly 'present' and engaged as we worked together over those two days. Deep conversations about power, potential, theory and practice were mixed with honest exchanges of hard-won wins, tough losses and lessons learnt.
So how could I build a deep understanding of the conversations and the insights that happened over those two days? How do you communicate the richness and the complexity of the discussion for both audiences that were there to draw and reflect upon, and in a way that could be shared with and understood by others who weren't at the workshop?  I didn't want to reproduce a standard event report so where I landed was on a synthesis of insights, flavoured by quotes that capture the voice of the presenters.
The result is a blend of concepts, frameworks, applications and hints organised into three sections:
Defining the system
Leading for systems change
Learning for systems change
Common threads emerged about efforts to create system change from participants in the room who mapped their own activities against the FSG triangle. These are documented in the report, and include: 
Policies
Moving away from a programmatic focus to place-based strategies
Moving away from punitive measures to working with community
Practices
Utilising systems thinking to identify leverage points
Engaging in ongoing collaboration and codesign 
Resource Flows
Ensuring data flow to and from the community in an accessible way
Changing funding parameters to better respond to community aspirations 
Relationships and connections
Identifying boundaries and how to span them
Creating connections across actors in the system
Power dynamics
Ensuring community has a seat at the leadership table 
Creating the space for unheard voices, including indigenous and youth voices
Codesigning interventions with, not for, community 
Mental models
Focusing on shifting attitudes and beliefs
Surfacing mental models in order to reframe the collective approach
Also included in the report is a 'practice library' that captures the great resources and recommendations of presenters and participants. 
Systems change is by its nature uncertain and ever-changing, and our thinking should be as well. This resource is a signpost rather than a recipe and the thinking reflects a moment in time. We'd love your feedback on what you've found useful as well as how you are seeing the theory and practice being adapted in the systems in which you work.
 As I write this from the quiet of my home office, knowing that I may not attend another face-to-face workshop for many months, I am even more grateful for having had these two full days of learning and dialogue. Thank you to everyone who attended and especially to the presenters who were so generous in sharing their knowledge with all of us in the room.
Download the resource: Changing Systems, Power and Potential: A synthesis of insights from the Canberra Workshop
See more Platform C resources: About Collaborative Change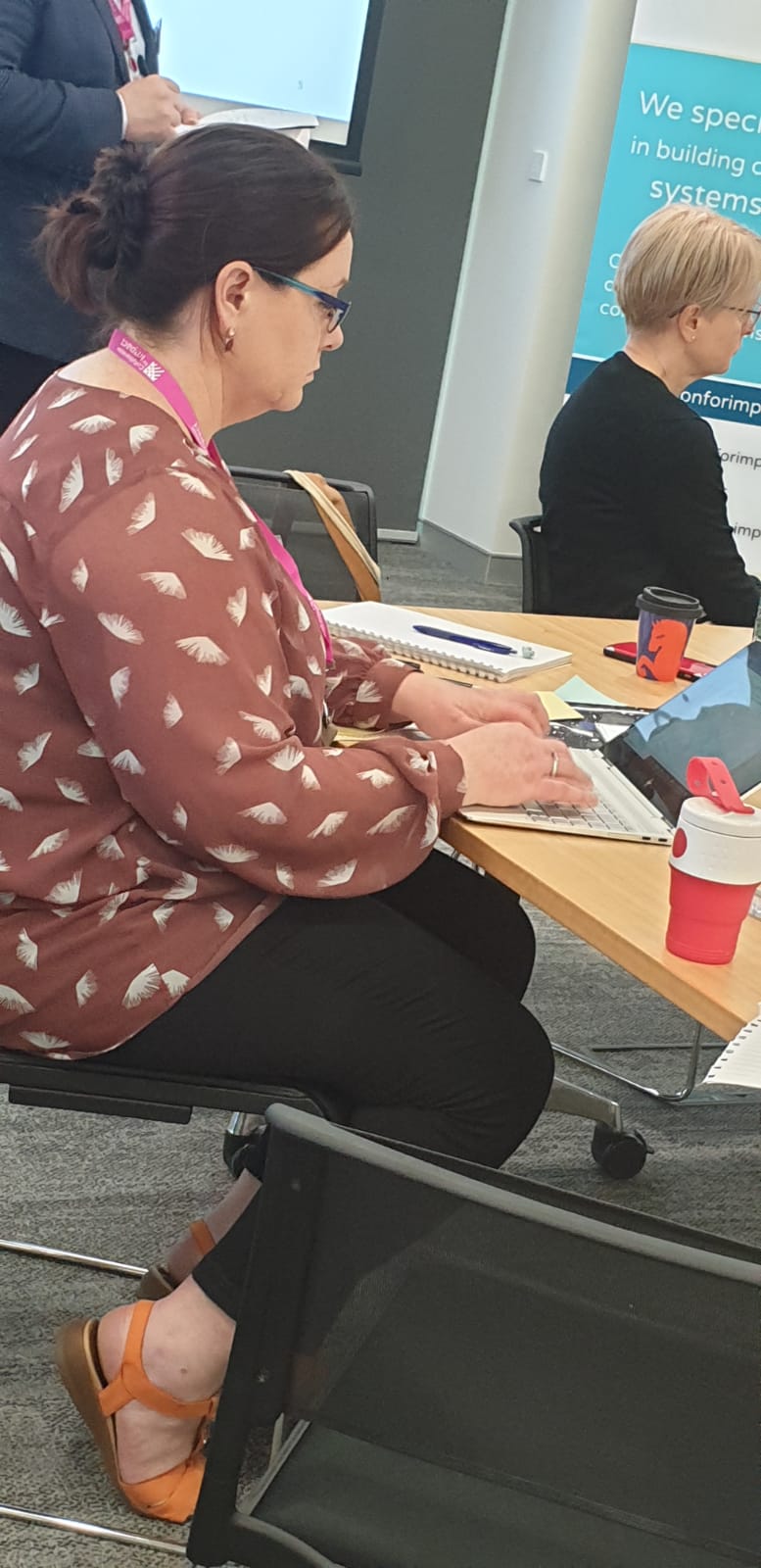 Fiona McKenzie in action at the Mark Cabaj Workshop.